DESCRIPTION
Facebook post plugin​ allows a private message to be sent automatically from your Facebook page to any Facebook user who comments on one of your Facebook Page Posts.
If the Facebook user replies to this automated message, the reply will be shown on the Platform, and if this is the first time the Facebook user has messaged you, they will become a Contact.
home INFO
Facebook users who comment on your post will only become a contact when they respond to the direct message.
infoCAUTION
Please bear in mind that ads are not supported for Facebook Private Replies
HOW TO SET UP
The Facebook Post plugin is available at erxes marketplace for all users when you get started with erxes. When you install the Team Inbox plugin, the Facebook Post plugin comes with it, as it's one of the core plugins erxes provides.
⚙️ Self-hosted client, please go to the plugin installation documentation to install the Inbox plugin after installing the erxes XOS.
‍💻 SaaS clients, when you sign-up for the erxes Facebook Post plugin, will be there already, so just follow this guideline to get started with this plugin.
PLUGIN TUTORIAL
The Facebook Post integration section can be found in the settings on the lower left-hand side of the screen when you enter erxes. By selecting the "add-ons" plugin, then you will see erxes messenger. Clicking on the "+Add" button, you will be taken to the Facebook Post.
Prerequisite.
Before you start integrating your Facebook Messenger, you need to make sure you have created your brands & channels
To efficiently manage your customer communications when you have several brands and team units like departments or products/services operating in your organization, you need to create brands and channels dedicated to those separate units.
Brands are usually linked to the source of communication channels dedicated to products and services. Please find more information here
Channels are usually linked to team members dedicated to channels like Sales, Marketing, etc. Find more about it here
home INFO
By integrating a Facebook page connected with your organization, all of the comments will be automatically sent into your team's common inbox on erxes. In order to secure your page:
You must be an admin.

You must be permitted by an erxes system administrator.

If you added the organization on erxes, you will be permitted.
To connect to your facebook through erxes follow the steps below.
Step 1. Go to Integrations
Step 2. Click on +Add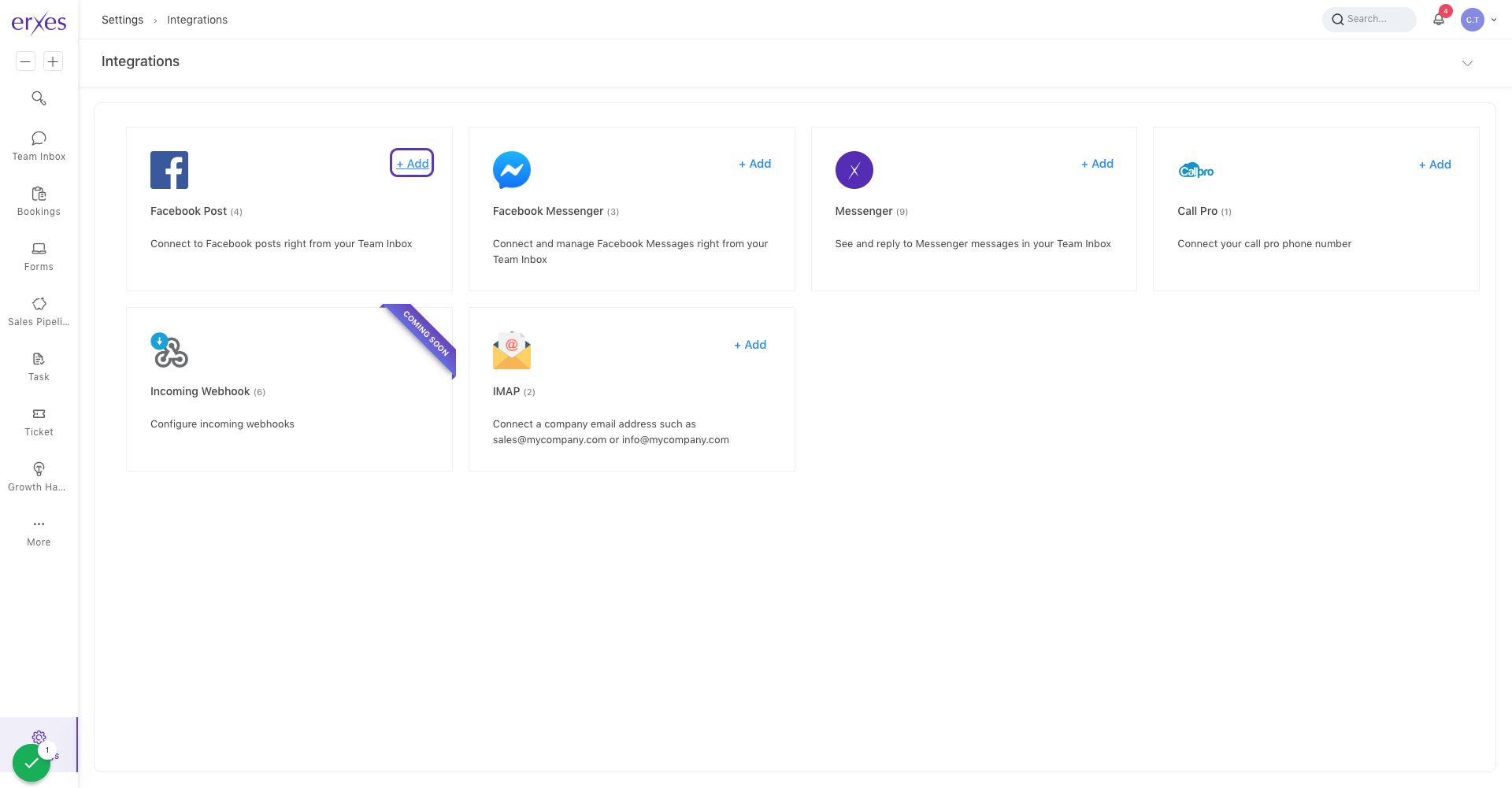 Step 3. Click on Continue with Facebook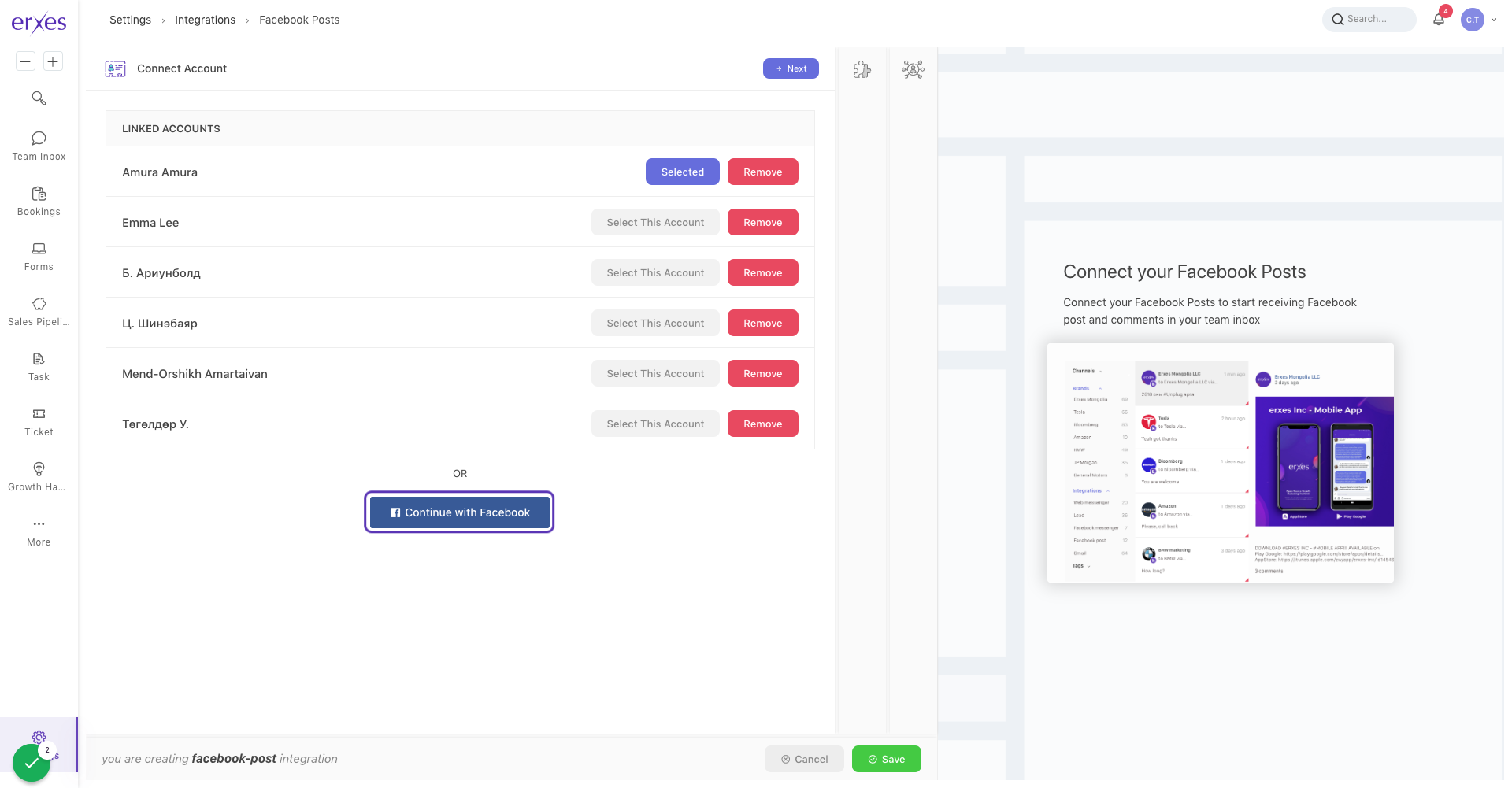 Step 4. Go Log in with Facebook
Make sure your already logined to facebook on the device your on.
Step 5. Click on Continue as your name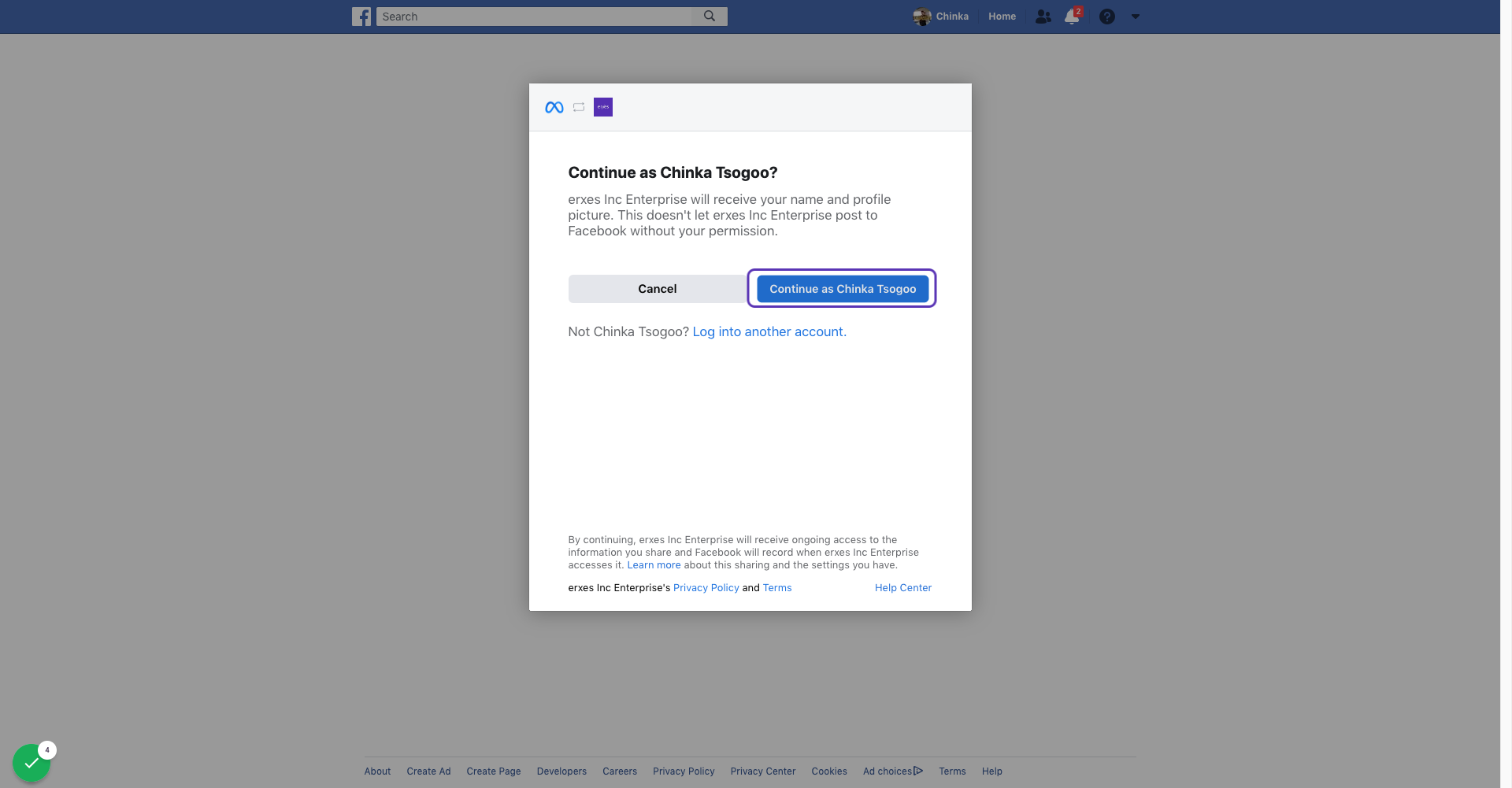 Step 6. Click on Done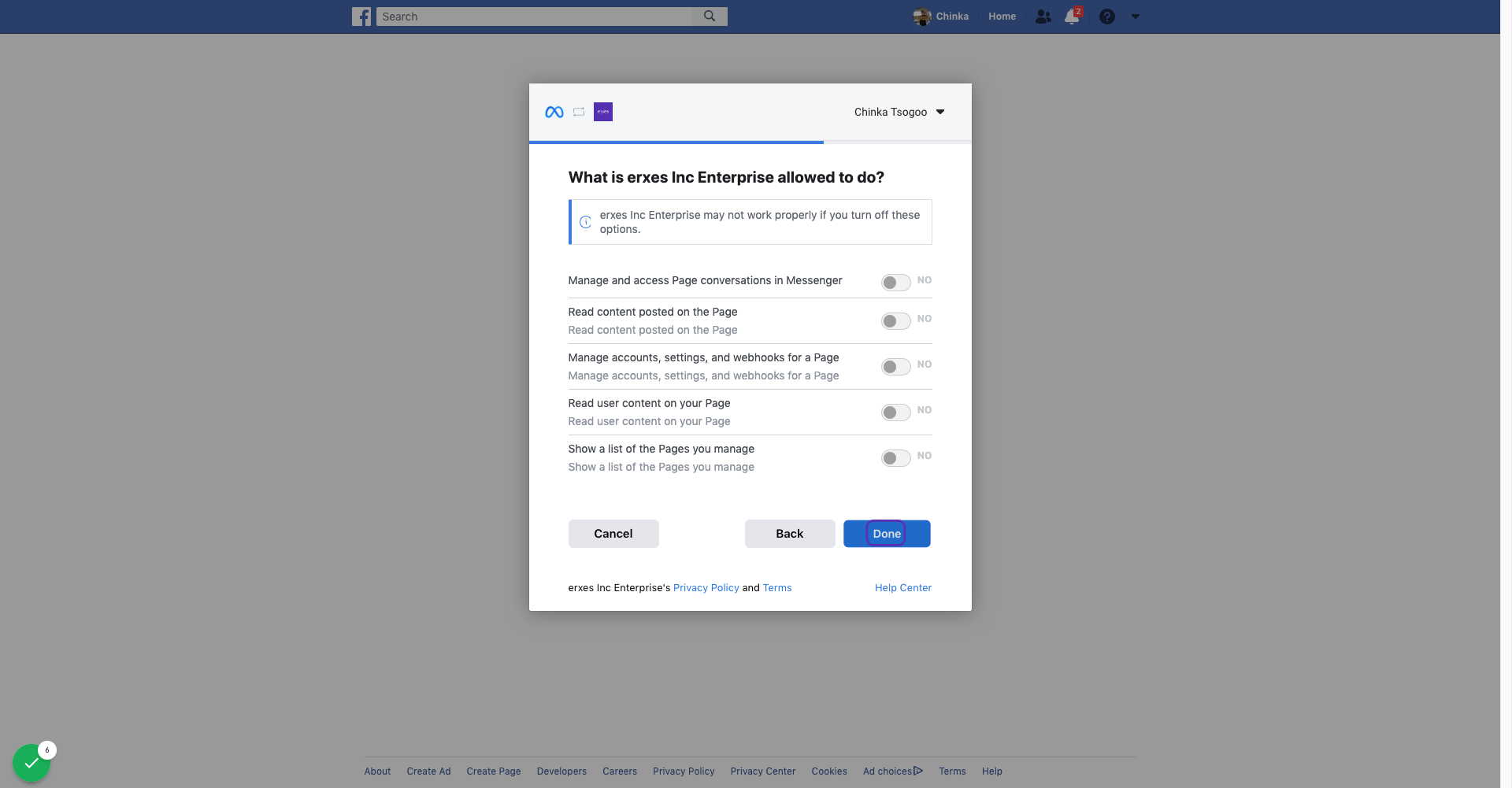 Step 7. Click on OK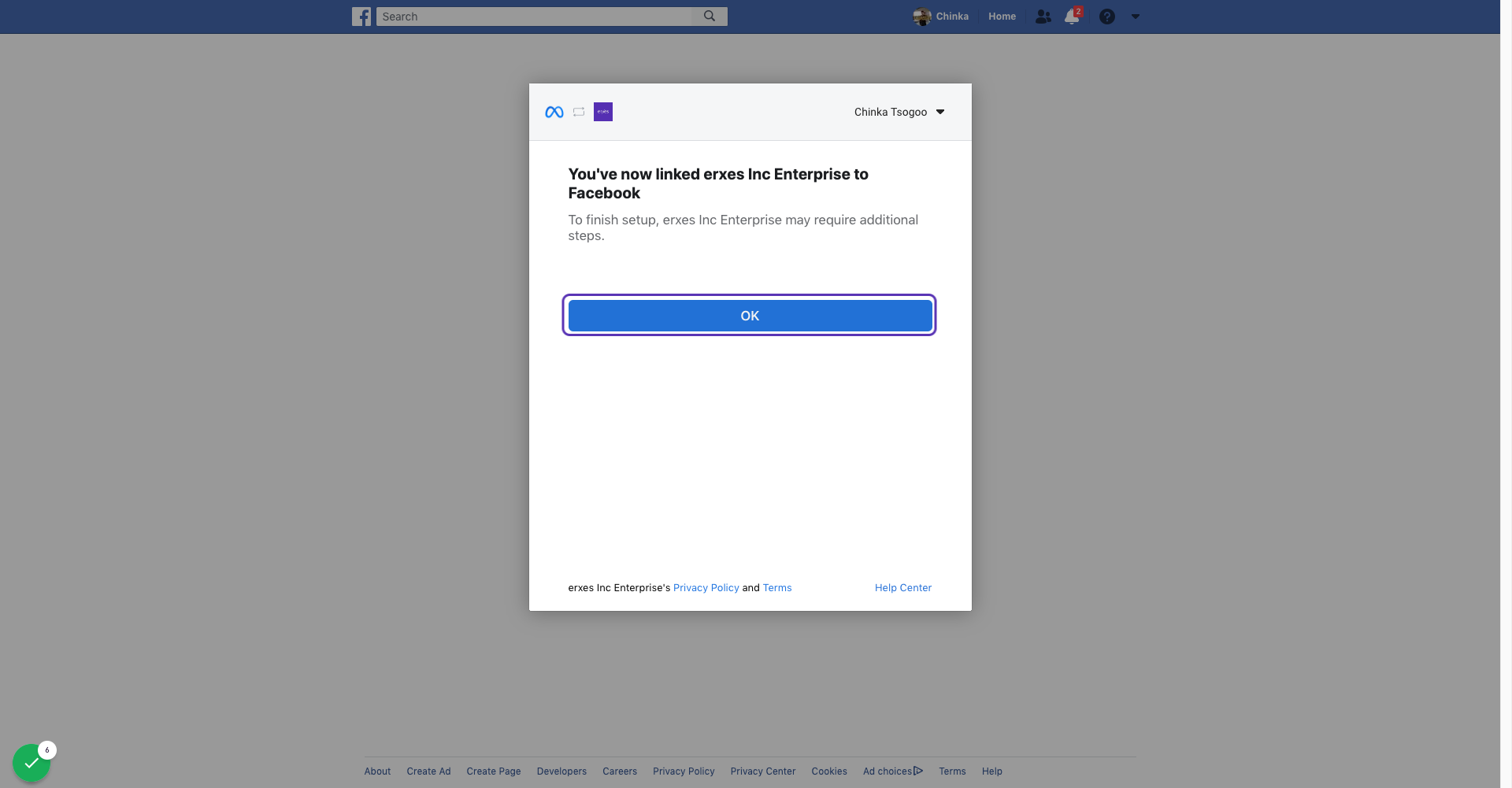 Step 8. Go to erxes
Step 9. Click on Select This Account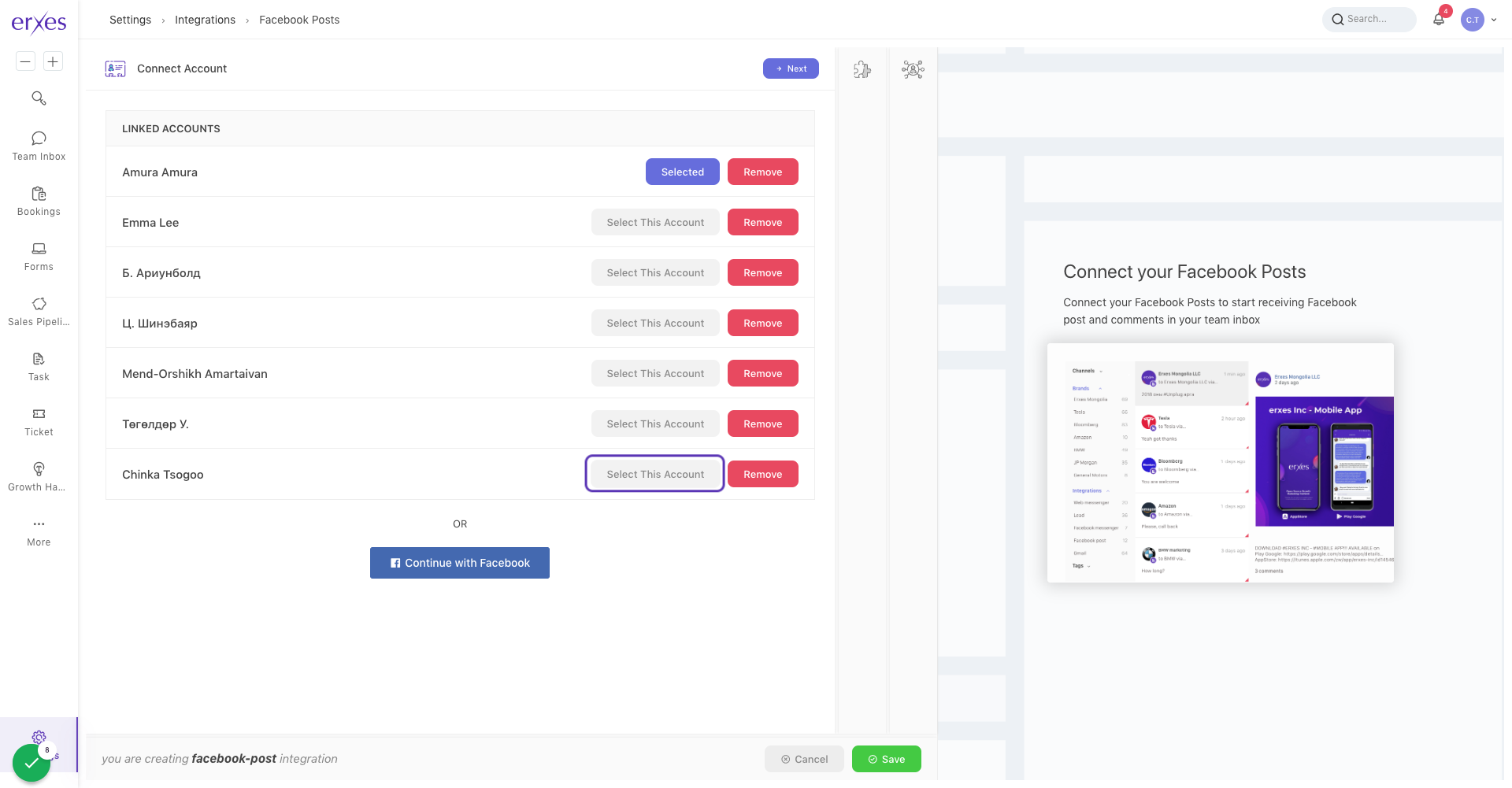 Step 10. Click on Save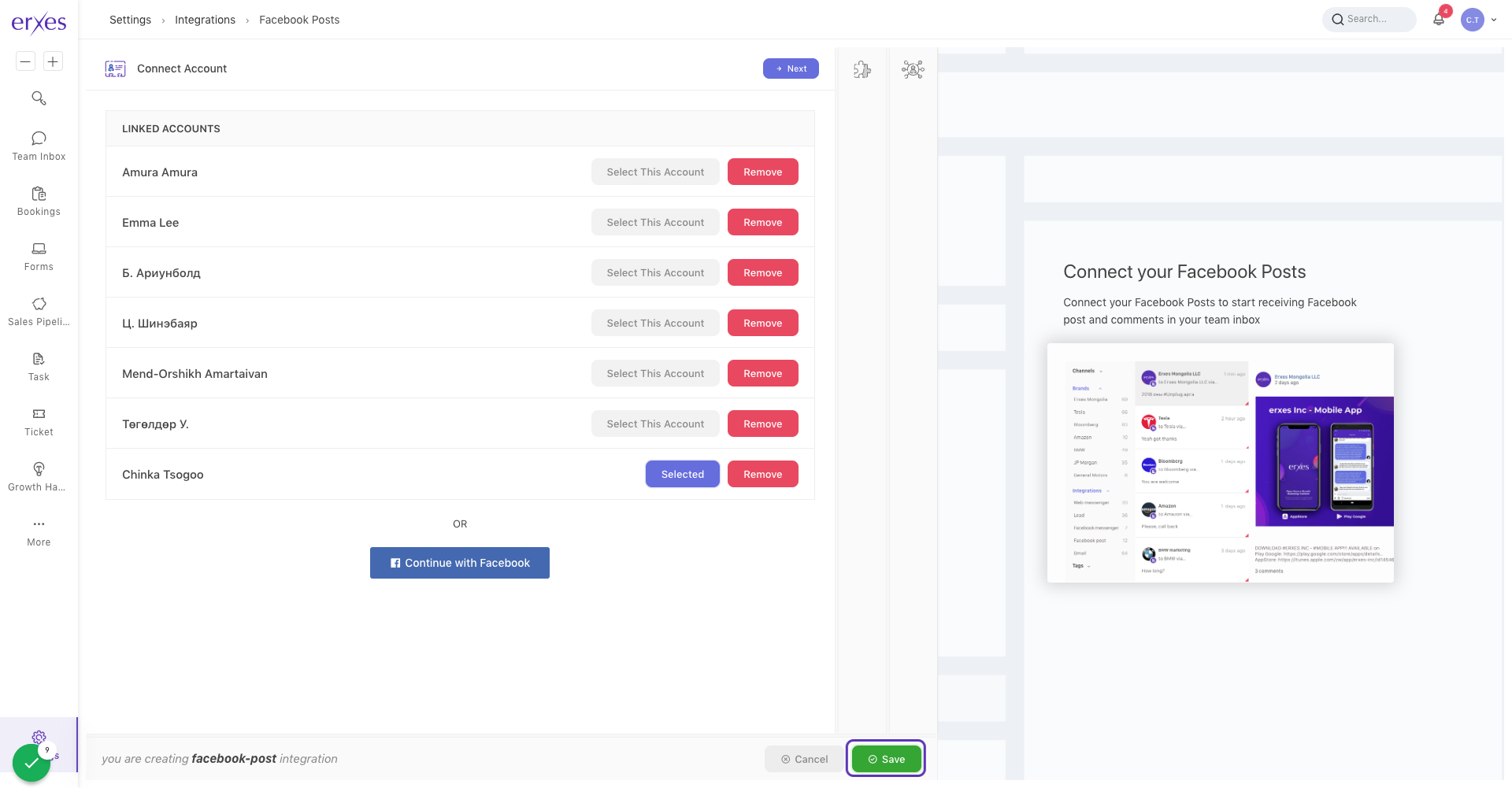 You have now linked your facebook with erxes.