Written by:Marla Munkhbayarlakh
Posted in:Use Case

A sales pipeline illustrates a potential customer's journey through each phase of your sales process, encompassing all opportunities being managed by sales representatives regardless of their age or maturity. Salespeople utilize the pipeline to monitor where prospects stand in the sales process and determine the best course✨of action to take. The more control and visibility you have of your sales pipeline, the more revenue you'll bring in.
Optimized leads management with Sales Pipeline
A Sales Pipeline is a vital tool for businesses to manage their leads and sales process. It helps track the progress of each lead and develop strategies for converting them into paying customers. This allows sales teams to handle leads more efficiently and prioritize the most promising opportunities while allocating resources effectively. Improved collaboration🤝, communication, and lead sharing lead to a more streamlined sales process, resulting in more closed deals and increased revenue💰.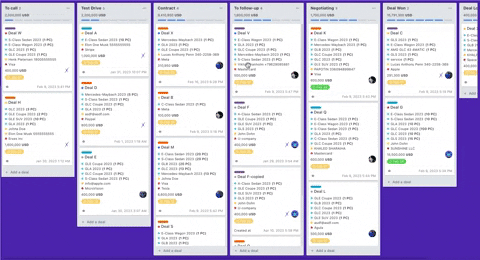 User-friendly Reports
The Reports plugin is a powerful tool to help companies optimize their sales processes through streamlined reporting and data analysis, by simplifying creation, management and automation of detailed reports without requiring special coding skills. In addition to being user-friendly, the Reports plugin 📝 simplifies the understanding of sales data by utilizing different types of visuals, such as charts and graphs, to explain both the positive and negative aspects of product performance.
Accurate visibility with Filter/Label
Effectively managing a sales pipeline can be a complex and time-consuming process. However, by implementing filters and labels, businesses can gain more precise and more accurate visibility into their sales deals. With filters and labels 🏷️, sales teams can better distinguish and prioritize their time and resources on the most promising opportunities. This strategic approach to sales management can significantly enhance sales outcomes and overall business success.
Better resource allocation
By using the sales pipeline, it is possible to filter sales deals by sales coordinators and gain insight into the workload of each team member💪. This approach allows for the tracking of each sales team member's activity separately, providing a comprehensive overview of the entire sales process.
Through this enhanced visibility, businesses can more effectively allocate their sales and marketing resources in the most efficient manner possible.
Sales planning for efficient sales management
By leveraging the capabilities of reports and sales pipeline plugins, businesses can establish sales plans and set objectives for a specific period. The plugins also offer flexible customization options for the dashboard, enabling businesses to track their progress in real-time and monitor their performance against the set objectives 🎯.This approach facilitates more efficient and effective management of deals, providing businesses with valuable insights into their sales operations.
Good performing sales management is necessary for running a successful business. Our powerful erxes X.O.S features like sales pipeline, reports, filters and labels will push your business one step forward to success.
Visit our marketplace to learn more about what we offer or fill this form out to get further information or schedule a call ☎️ with us.
---