DESCRIPTION
Types of knowledge articles can include solutions to common issues, product or feature documentation, FAQ's and much more. By creating a community of loyal users who are willing to give their opinion, you can find out more about their needs and expectations. Articles can address any number of issues your customers encounter.
BENEFITS
Help your customers with a fully-functional Internal Knowledge Base that they can use to solve problems. Make it easy for your customers to learn how to use your product with erxes Knowledge Base! Scale your customer support without increasing the costs.
Of people prefer self-service support over waiting for a reply.
Of millennials use a search engine to find answers before calling to get customer service.
Of calls come from customers who visited the company's website first.
What can you build with erxes Knowledge Base?
Build a world-class, self-service knowledge base for your SaaS products.
Create how-to guides, tutorials, reference docs, system docs, and release notes.
Replace offline, static, PDF user guides with guides you can always keep up-to-date.
Build FAQ pages that constantly require adding or updating Questions & Answers.
Build a private, login required, documentation for employees or clients.
Standard Operating Procedures
Build SOP's like employee handbooks or sales/marketing playbook.
FEATURES
KNOWLEDGE BASE
Instantly create an Internal Knowledge Base for your Customer and Employees (accessed either publicly or privately).
CLIENT PORTAL
An easy-to-use client portal can make your business grow by mapping the journey of your customers from lead to loyal customers.
CUSTOMIZABLE HELP CENTER
Build a public help center that matches the design of your brand for your clients and customers to know about your products and services better.
WEBSITE
A simplified site for content consumers, with a state-of-the-art search and optimized for reading on any device.
WIDGET FOR LIVE CHAT
No more jumping back and forth. Connect with LiveChat to send articles directly from KnowledgeBase to chat and place FAQs ready to get access.
KNOWLEDGE BASE CAMPAIGN
Build employee handbooks or sales/marketing playbooks for your employee to be on board without confusion and complication.
Erxes Knowledge Base in action with its possibilities
Take a look at what erxes Knowledge Base sites can have.
HOW TO SET UP
The Knowledge Base plugin is available at erxes marketplace for all users when you get started with erxes. It comes for free as it's one of the core plugins erxes provides.
⚙️ Self-hosted client, please go to the plugin installation documentation to install the Knowledge Base plugin after installing the erxes XOS.
‍💻 SaaS clients, when you sign-up for the erxes Knowledge Base plugin, it will be there already, so just follow this guideline to get started with this plugin.
Prerequisite.
Before you start creating your knowledge base you must ensure you have completed your brands & channels.
To efficiently manage your customer communications when you have several brands and team units like departments or products/services in your organization, you need to create brands and channels dedicated to those separate units.
Brands are usually linked to the source of communication channels dedicated to products and services.
Channels are usually linked to group team members dedicated to particular channels like Sales, Marketing, etc.
To create brands.
To create channels.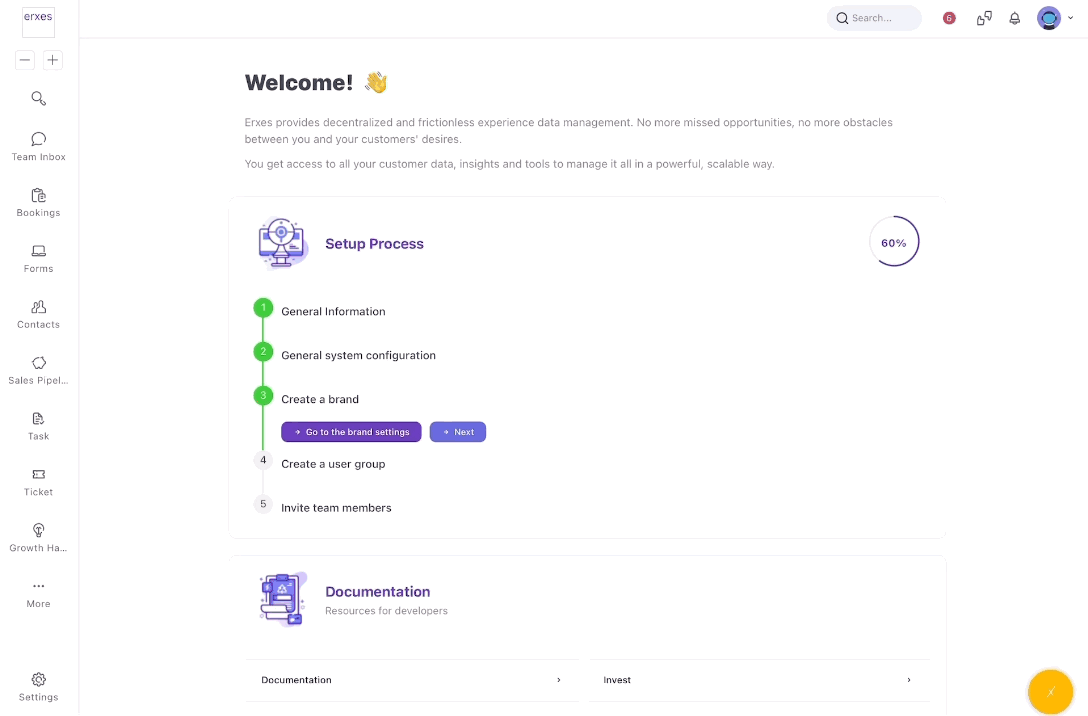 infoCAUTION
You can manage your team members to access customer communication within permitted brands and channels.
PLUGIN TUTORIAL
The Knowledge Base can be found on the left-hand side of the screen when you enter erxes. By selecting the pin, you will be able to place the sign on the plugins bar visible.
Step one. Plan your knowledge base structure.
Step two. Add categories.
Step three. Create a knowledge base article.
Step four. Place your Knowledge Base script code.
Using Script Installation you can place your written Knowledge Base to your targeted place. erxes Knowledge Base can be placed on:
Subpage on your website
erxes Messenger to be placed on your website, mobile application, or software for your clients and leads.
Dedicated client portal for your employee or clients.
✌️ Enjoy your journey with the Knowledge Base plugin!